Transformatorske grupe za brodska napajanja
Transformers group for shipboard use
Transformatorgruppen für den Schiffbau
Nazivna snaga: 3× (12.5-140) kVA
Tip jezgre: 2UI
Frekvencija: 50/60 Hz
Montaža: vertikalna u kućištu
Priključci: do 50 A redne stezaljke
do 100 A sab. Stezaljke, M10
do 300 A sab. Cu 5×30, M10
Klasa izolacije: T45/B (T50/F)
Klasa zaštite: IP 23
Dekor kućišta: plastificirano, RAL 7032
Power range: 3× (12.5-140) kVA
Core type: 2UI
Frequency: 50/60 Hz
Mounting: Floor–Mounted Housing
Terminals: up 50 A, terminal blocks
up 100 A, bar terminal, M10
up 300 A, Cu bar 5×30, M10
Insulation class: T45/B (T50/F)
Class of protection: IP 23
Colour: plasticised, RAL 7032
Nennleistung: 3× (12.5-140) kVA
Kerntyp: 2UI
Frequenz: 50/60 Hz
Montage: vertikale im Gehäuse
Anschlüsse: bis 50 A Reihenklemme
bis 100 A Kupferschiene Klemme, M10
bis 300 A Kupferschiene Cu 5×30, M10
Isolierstoffklasse: T45/B (T50/F)
Schutzklasse: IP 23
Gehäusedekor: plastifiziert, RAL 7032
Mjerna skica
/
Dimensions
/
Maße
:
1. Tri odvojena jednofazna transformatora u samostalnim kućištima
1. Three separated single-phase transformers in separate housings
1. Drei getrennte Einphasen-Transformatoren im eigenständigen Gehäuse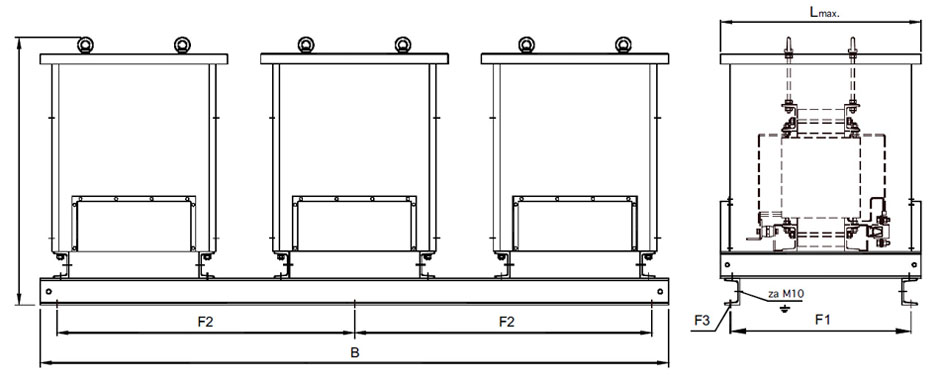 2. Tri, (ili tri plus jedan) jednofazni transformator, u samostalnom kućištu
2. Three (or three plus one) single-phase transformer, in separate housing
2. Drei (oder drei plus ein) Dreiphasen-Transformatoren im eigenständigen Gehäuse

Ostale snage na zahtjev kupca.
Dimenzije su informativne i podliježu promjenama.
Other powers upon customer's demands.
The above dimensions are informative and can be changed.
Alle weiteren Leistungen auf Anfrage des Kunden.
Die Maße haben informativen Charakter und unterliegen Veränderungen.