Izlazna snaga i zagrijavanje
Output power and warm-up
Ausgangsleistung und Erwärmung
3.0 Izlazna snaga i zagrijavanje
Vrijednost navedena u tablicama kataloga odnosi se na sekundarnu izlaznu snagu u VA ili kVA prilikom trajnog opterećenja transformatora (S1) i naziva se nazivna izlazna snaga.
Kad transformator nije trajno opterećen punom nazivnom snagom može se preopteretiti kraće vrijeme prema vrijednostima u tablici.
3.0 Output power and warm-up
Values listed in the catalogue tables refer to secondary output power in VA or kVA during continuous transformer load (S1) and it is referred to as rated output power.
In case that the transformer is not continuously loaded with full rated power, it may be overloaded for a shorter period of time pursuant to the values listed in the table.
3.0 Ausgangsleistung und Erwärmung
Der in den Tabellen des Katalogs genannte Wert bezieht sich auf die sekundäre Ausgangsleistung in VA oder kVA bei Dauerbetrieb des Transformators (S1) und wird als Nennausgangsleistung bezeichnet.
Wird der Transformator nicht ständig mit der vollen Nennleistung betrieben, ist er kurzzeitig nach den Werten der folgenden Tabelle überlastbar.
Nazivna snaga kod trajnog opterećenja u % nazivne snage
Continous load in % of nominal power
Vorausgehende Dauerbelastung in % der Nennleistung
Dozvoljeno trajanje preopterećenja u minutama u postocima nazivne snage Permissible duration of the overloading in minutes and % of nominal power
Zulässige Dauer der Überlastung in Minuten und Prozent der Nennleistung
150%
140%
130%
120%
110%
60
30 min
45 min
65 min
105 min
180 min
70
25 min
40 min
60 min
95 min
170 min
80
20 min
30 min
45 min
80 min
155 min
90
15 min
25 min
40 min
75 min
140 min
100
8 min
15 min
30 min
60 min
120 min
Vrijednosti navedenih nazivnih snaga u ovom katalogu odnose se na temperaturu okoline max. 40°C i montaži transformatora na max. 1000 m nadmorske visine. Ukoliko postoji odstupanje od navedenih vrijednosti,potrebno je izvršiti korekciju nazivne snage prema dijagramima slika-01 i slika-02. Svi transformatori izrađeni su od materijala temperaturne klase F i H, a deklarirani su i ispitani prema normama za B klasu.
Values of the above-mentioned nominal powers in this catalogue refer to the environmental temperature of max. 40°C and transformer assembly at max. 1.000 m above sea level. In case of deviation from the above-mentioned values, rated power must be corrected pursuant to the diagrams Fig-01 and Fig-02. All transformers are produced from materials of temperature class F and H and are declared and tested pursuant to the standards for B class.
Die Werte der genannten Nennleistungen in diesem Katalog beziehen sich auf die Umgebungstemperatur bis max. 40°C und auf die Aufstellhöhe des Transformators auf max. 1000 m über dem Meeresspiegel. Sollten Abweichungen der genannten Werte bestehen, muss eine Korrektur der Nennleistung nach den Diagrammen aus Bild-01 und Bild-02 durchgeführt werden. Alle Transformatoren wurden aus Materialien der Isolierstoffklassen F und H hergestellt und nach den Normen für die Klasse B deklariert und geprüft.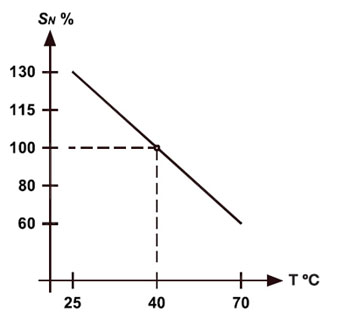 Slika-01 Dijagram ovisnosti nazivne snage o temperaturi okoline
Fig-01 Diagram of dependence of rated power on environmental temperature
Bild-01 Abhängigkeitsdiagramm der Nennleistung über die Umgebungstemperatur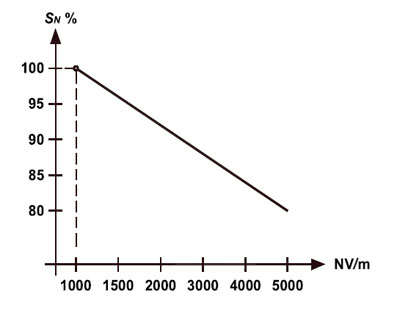 Slika-02 Dijagram ovisnosti nazivne snage o visinskoj montaži
Fig-02 Diagram of dependence of rated power on height of the assembly
Bild-02 Abhängigkeitsdiagramm der Nennleistung über die Höhenmontage
Faktor smanjenja nazivne snage pri temperaturi T°C u odnosu na snagu pri 40°C može se izračunati i prema slijedećoj formuli.

Factor of rated power reducing at temperature T°C with regard to power at 40°C may be calculated according to the following equation.

Der Verringerungsfaktor der Nennleistung bei der Temperatur T°C im Verhältnis zur Leistung bei 40°C kann nach folgender Formel berechnet werden.

Primjer

/

Example

/

Beispiel

:

Nova nazivna snaga iznosi 79 kVA.
New rated power amounts to 79 kVA.
Die neue Nennleistung beträgt 79 kVA.