Zbirni strujni mjerni transformatori
Sumation current transformers
Summenstromwandler
Namijenjeni su za zbrajanje više sinkronih struja iste faze, pri tome sekundarna struja glavnih transformatora mora biti jednaka nazivnoj struji pripadajućeg primarnog kruga zbirnih transformatora.
TEHNIČKE UPUTE

Ako se npr. želi vršiti zajedničko mjerenje četiri transformatora slijedećih prijenosnih omjera: 1000/5+80015+500/5+500/5A tada su podaci zbirnog transformatora 5+5+5+5/5A sa omjerom 10:8:5:5 i biti će označeni kako sljedi na dodatnoj pločici:
Nazivne primarne struje glavnih transformatora ne smiju prekoračiti omjer 1:8
Određivanje snage i učešća glavnih transformatora u njoj ilustrirano primjerom:
The summation current transformers are used to summatize synchronous alternating currents of the same phase. The rated secondary current of the main transformers must be the same as the rated primary current of the summation transformer.
TEHNICAL INSTRUCTION

If you want to sum the currents of four main transformers with the current ratios: 1000/5+800/5+50015+500/5A technical data of the summation transformers are 5+5+5+5/5A with ratio 10:8:5:5 and will be written as follows:

The primary current ratio of the main transformers can be max 1:8
How to dertermine the rated burden of the summation transformer can be seen on example:
Sie dienen der Summierung höherer synchroner Wechselströme der selben Phase, dabei muss der Sekundärstrom der Hauptwandler mit dem Nennstrom des Primärstromkreises der Summenstromwandler übereinstimmen.
TECHNISCHE HINWEISE

Sollte man beispielsweise eine Gemeinschaftsmessung von vier Wandlern mit folgender Nennübersetzung durchführen: 1000/5+800/5+500/5/5A, sind die Daten des Summenstromwandlers 5+5+5+5/5A mit einem Verhältnis 10:8:5:5 und werden wie folgt auf einem zusätzlichen Schild gekennzeichnet:
Der Nennprimärstrom der Hauptwandler darf das Verhältnis 1:8 nicht überschreiten.
Die Bestimmung der Leistung und des Anteils der Hauptwandler, in ihr illustrieren wir mit einem Beispiel:
•

Ampermetar

/

Ammeter

/

Strommesser
1 VA
•

Brojilo sa pisačem

/

Meter with recorder

/

Leistungsschreiber
3 VA
•

Cos ϕ meter

/

Cos ϕ meter

/

Leistungsfaktormesser
3 VA
•

Ostali gubici

/

Other losses

/

Sonstige Verluste
3 VA
•

Ukupna potrošnja/

Total consumption

/

Gesamtverbrauch
10 VA
Učešće glavnih transformatora u snazi zbirnog transformatora su:
The ratio of rated burden of the main transformers:
Der Leistungsanteil der Hauptwandler in der Leistung des Summenstromwandlers beträgt wie folgt:
1000/5 A
(1000:2800)×10 VA = 3,57 VA
800/5 A
(800:2800)×10 VA = 2,85 VA
500/5 A
(500:2800)×10 VA = 1,78 VA
500/5 A
(500:2800)×10 VA = 1,78 VA
Ukupna snaga

/

Total burden

/

Gesamtleistung
10 VA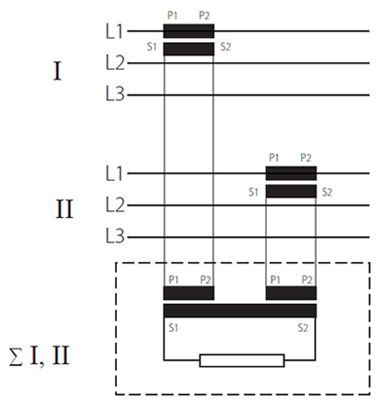 Ako su prijenosni omjeri glavnih transformatora isti, nije ih potrebno navoditi
If the transformer ratios are the same, there are omitted
Wenn die übertragungsverhältnisse der hauptwandler übereinstimmen, müssen diese nicht genannt werden
Shema spajanja zbirnog transformatora
Shema of connection summation transformers
Anschlussschema des summenstromwandlers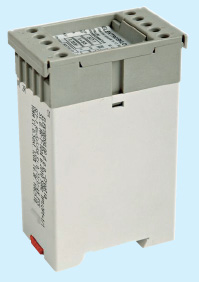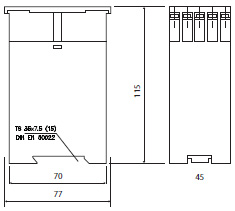 Strujni transformator za mjerenje /

Measuring current transformers

/

Stromwandler für Messzwecke

Broj primarnih krugova/

No. of primary circuits

/

Anzahl der Primärkreise

3
Nazivni teret/

Rated burden

/

Nennbürde

(VA)
5/10
Klasa točnosti/

Accuracy class

/

Genauigkeitsklasse

0,5/1,0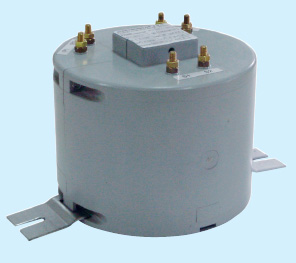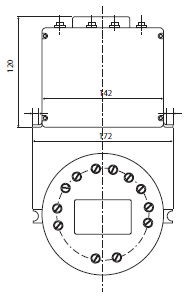 Strujni transformator za mjerenje /

Measuring current transformers

/

Stromwandler für Messzwecke

Broj primarnih krugova/

No. of primary circuits

/

Anzahl der Primärkreise

6
Nazivni teret/

Rated burden

/

Nennbürde

(VA)
10/15
Klasa točnosti/

Accuracy class

/

Genauigkeitsklasse

0,5/1,0
Podaci za naručivanje
- prijenosni omjeri glavnih transformatora
- sekundarnu struju zbirnog transformatora
- snagu
- klasu točnosti
To place an order state the following
technical data
- current ratio of main transformers
- rated secondary current of summation transformers
- rated burden
- accuracy class
Angaben für die bestellung
- nennübersetzung der Hauptwandler
- Sekundärstrom des Summenstromwandlers
- Leistung
- Genauigkeitsklasse