Tehnički podaci
Tehnical data
Technische Daten
Niskonaponski strujni transformatori koriste se za transformiranje mjerene struje na iznos prilagođen mjernim i zaštitnim uređajima.
Strujne transformatore izrađujemo u skladu sa IEC 60044-1/96 i drugim ugovorenim standardima npr.: DIN/VDE 0414-1 i slično.
The low voltage current transformers are used to transform primary current to a value requested by the metering and protection devices.
These transformers are produced in compliance with the IEC 60044-1/96 or other requested standards for example DIN/VDE
0414-1.
Die Niederspannungsstromwandler werden für die Transformation des Messstroms auf den Betrag der angepassten Mess- und Schutzgeräte eingesetzt.
Die Stromwandler stellen wir gemäß IEC 60044-1/96 her, sowie nach anderen vereinbarten Standards, z. B. DIN/VDE 0414-1 und mehr.
| | | | |
| --- | --- | --- | --- |
| TEHNIČKI PODACI | TEHNICAL DATA | TECHNISCHE DATEN | |
| Naiviši napon mreže | Highest system voltage | Höchste Netzspannung | 0,72 kV |
| Ispitani napon 50hz/1min | Test voltage 50hz/1 min | Prüfspannung 50Hz/1min | 3,00 kV |
| Frekvencija | Frequency | Frequenz | 50-60 Hz |
| Nazivna termička struja | Short time thermal current | Thermische Bemessungs-Kurzzeitstromstärke | lth=60 ln |
| Trajna termička struja | Continuous thermal current | Thermische Bemessungs-Dauerstromstärke | lcht=1,2 ln |
| Nazivna sekundarna struja | Rated secondary current | Bemessungsstrom sekundär | 5(1) A |
| Faktor sigurnosti na strani 5 | On the page 5 safety factor | Überstrom Begrenzungsfaktor/auf Seite 5 | 5(10) |
| Tophnska klasa izolacije | Thermal insutlation cl ass | Isolierstoffklasse | E |
| Stupanj zaštite | Degree of protection | Gehäuseschutzart | IP 30 |
| | | | |
| --- | --- | --- | --- |
| TEHNIČKE UPUTE | TEHNICAL INSTRUCTIONS | TECHNISCHE HINWEISE | |
| Odabir klase točnosti | Choise of accuracy class | Wahl der Genauigkeitsklasse | |
| za kWh brojila | for kWh meters | für kWh Zähler | 0,5 |
| za instrumente | for measurement | für Instrumente | 1,0 |
| za zaštitu | for protection | zum Schutz | /3,0 -5P5-5P10/ |
Granice strujnih i kutnih pogrešaka/
Limits of current error and phase displacemer
Ehlergrenzwerte der Stromwandlerklassen nach
Klasa točnosti


Accuracy class




Genauigkeitsklasse

Granice strujne pogreške u %


Ratio error limits in %




Genauigkeitsklasse Stromfehler in %

0,05 In
0,2 In
In
1,2 In
0,5
± 1,5
± 0,75
± 0,5
± 0,5
1
± 3
± 1,5
± 1
± 1
3
od/

from

/

von

0,5 In do/

to

/

bis

1,2 In=+/- 3
Klasa točnosti


Accuracy class




Genauigkeitsklasse

Granice kutne pogreške u minutama


Phase displacement limits in minutes




Genauigkeitsklasse Fehlwinkel in Min

0,05 In
0,2 ln
ln
1,2 In
0,5
± 90
± 45
± 30
± 30
1
± 180
± 90
± 60
± 60
3
nije definirano/

not specified

/

nicht festgesetzt
Gubici u bakrenom vodiću
/dva vodića/ VA
Losses in copper wire
/two wire/ VA
Eigenverbrauch der Kupferleitungen
/zwei Leitern/ VA
Duljina


distance




Länge

Za/

For

/

Für

1 A
m
12
2,52
42
62
1
0,04
0,01
2
0,07
0,03
3
0,10
0,04
4
0,14
0,06
5
0,18
0,07
6
0,21
0,09
7
0,25
0,10
8
0,29
0,11
9
0,32
0,13
10
0,36
0,14
0,09
0,06
20
0,71
0,29
0,18
0,12
30
1,07
0,43
0,27
0,18
40
1,43
0,57
0,36
0,24
50
1,78
0,72
0,45
0,30
60
2,14
0,86
0,54
0,36
70
2,50
1,00
0,63
0,42
80
2,86
1,14
0,71
0,48
90
3,29
1,29
0,80
0,54
100
3,57
1,43
0,89
0,60
Duljina


distance




Länge

Za/

For

/

Für

5A
m
2,52
42
62
102
1
0,36
0,22
0,15
0,09
2
0,71
0,45
0,30
0,18
3
1,07
0,67
0,45
0,27
4
1,43
0,89
0,60
0,36
5
1,78
1,12
0,74
0,44
6
2,14
1,34
0,89
0,54
7
2,50
1,56
1,04
0,63
8
2,86
1,79
1,19
0,71
9
3,21
2,01
1,34
0,80
10
3,57
2,24
1,49
0,89
20
7,10
4,50
3,00
1,80
30
10,70
6,70
4,50
2,70
40
14,30
8,90
6,00
3,60
50
17,80
11,20
7,40
4,40
60
13,40
8,90
5,40
70
15,60
10,40
6,30
80
17,90
11,90
7,10
90
20,10
13,40
8,00
100
22,40
14,90
8,90
Nazivne trajne struje primarnih bakrenih priključaka
Continuos current on primary copper bars
Schienenbelastbarkeit IEC
dimenzije
dimensions
maße
/mm/
naziva struja
rated current
nennstrom
/ In /
slika priklj.
picture of bar schienenbild
duljina priklj.
bar length
schienenlänge
/mm/
tip transformatora
transformer type
wandlertyp
30×3
300
A
–
CTO
30×5
400
A
130/160
CTBO/CTB1
30×10
750
A
130/160
CTBO/CTB1
40×5
600
B
160
CTB2
50×5
600
E
160
CTB2
40×10
800
D
160
CTB2
40×10×2
1500
D
160
CTB2
50×10
1000
F
180/220
CTB2/CTB2P
50×10×2
1800
F
180/220
CTB2P
80×10
1600
G
220
CTB3
80×10×2
2500
G
220
CTB3
100×10
2000
H
240
CTB4
100×10×2
3000
H
240
CTB4
120×10×3
4000
I
240
CTB5
Slike primarnih priključaka IEC 60909
Pictures of primary bars IEC 60909
Bilder der Primärschienen IEC 60909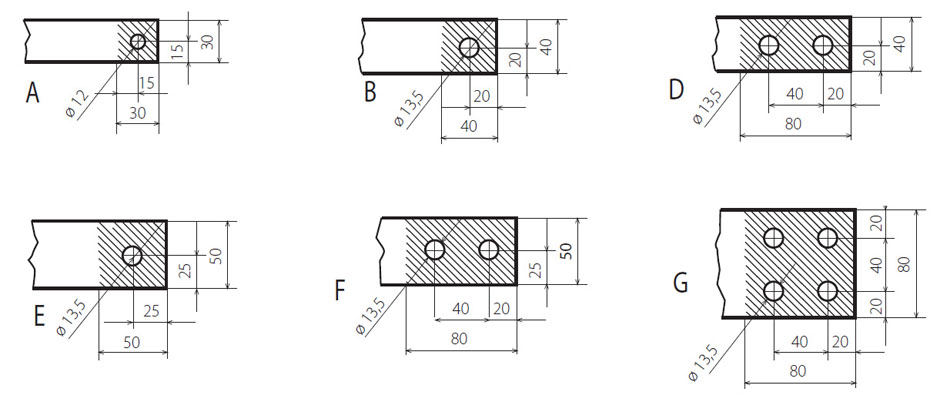 Spajanje na strujni transformator
Connection on current transformator
Anschluss an einen Stromwandler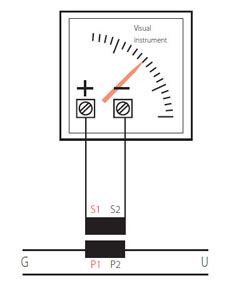 Oznake
Designations
Markierungen
P1(K) Primarni namot/Ulaz
Primary Winding/Input
Primärwicklung/Eingang
P2(L) Primarni namot/Izlaz
Primary Winding/Output
Primärwicklung/Ausgang
S1(k) Sekudarni namot/Ulaz
Secondary Winding/Input
Sekundärwicklung/Eingang
S2(I) Sekudarni namot/Izlaz
Secondary Winding/Output
Sekundärwicklung/Ausgang
Strujni - tabelarni prikaz

/

Current transformers range

/

Stromwandler - tabellarische Darstellung